Raynergy Tek believes that going beyond 11% efficiency using halogenated free ink is an important step forward for both the company and the green energy industry
(From
www.osadirect.com
)
Raynergy Tek has announced that their latest developed organic photovoltaics (OPV) donor Polymer [PV5001] which required non-halogen formulation component has achieved "world record" Power Conversion Efficiency of 11.51% using inverted device architecture.
The devices were independently certified in Taiwan Enli Tech. Optoelectronic Calibration Lab. on June 15th 2016, an established agency approved under TAF.
This new result from Raynergy Tek has been demonstrated by its continuous progress from 10% to more than 11.5% efficiency using fully green ink formulation.
The active layer of PV5001 is >250nm in film thickness for excellent proccessability, optimised for absorption up to 800nm of visible wavelength and processed at low temperature of <120°C which is fully compatible to flexible substrates.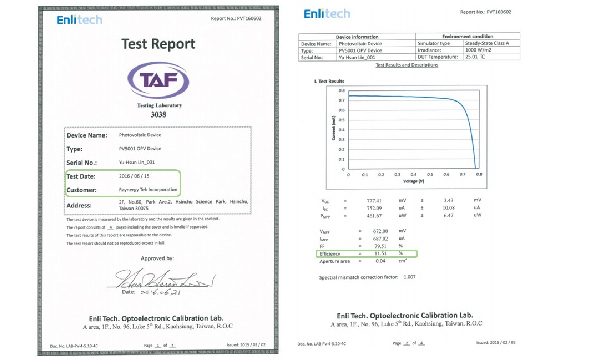 Figure: Raynergy Tek - Certification of OPV
According to Raynergy Tek recent public known certified high PCE of >11% materials are either required chlorinated solvents due to solubility issue or required additives like 1,8- Diiodooctane (DIO), which comprises of halogen to achieve best morphology for high efficiency demonstration.
Upscaling of PV5001 is underway and sampling should be soon started to industrial customers for modules demonstration in July 2016.
Dr. Chung-wen Ko, CTO of Raynergy Tek, said, "To our understanding, this certification results is the highest reported OPV efficiency certified using fully green formulation, in other words, halogen-free formulation component, which is vital for industrial's adoption." Dr. Chung-wen Ko, added, "Unlike the others, the high performance PV5001 donor is molecularly designed to have good solubility with excellent molecular packing density to preserve charge transport, made possible by the R&D team who constantly focused on creating new polymer by taking consideration of industrial's needs."
Dr. Chung-chin Hsiao, CEO Raynergy Tek, said, "We are pleased to continue to lead the OPV industry with this landmark achievement, and it gives us confidence that we are on the right path to OPV commercialization. Going beyond 11 percent in efficiency using halogenated free ink formulation - is an important step forward for both Raynergy Tek and the green energy industry. PV5001 shows great promising to meet the industrial partners' higher efficiency needs without compromising manufacturability."